Company Insights: What's in the cards for Visa?
23/11/2022
Total consumer spending reached almost USD 51 trillion in 20211 and is expected to keep growing to over USD 64 trillion by 20252. For 57% of total payments (2021)3, consumers used credit cards and debit cards. It is therefore fair to state that the credit card industry is a massive one. These days, credit and debit cards are the most used form of digital payment (57% in the U.S.) and are increasingly replacing the use of cash (20% in the U.S.) (Chart 1).4 One of the leading providers in this space is Visa Inc. (Visa) whose credentials are on 3.8 billion cards worldwide.
Chart 1: Share of payments use for all payments (by number)

*The Automated Clearing House (ACH) is an electronic funds-transfer system that facilitates payments in the U.S.
Source: Findings from the Diary of Consumer Payment Choice, FED Financial Services, 2022, S.6.
In June 2022, we had a conversation with Visa's CFO Vasant M. Prabhu about the company's core business, the firm's product portfolio, competition and the general market outlook.
Visa, Inc. is a leading provider of digital payments technology and operates the world's largest payments network. Visa owns, manages, and promotes a portfolio of well-known, widely accepted payment brands, including Visa, Visa Electron, PLUS and Interlink. With an increased focus on a multi-rail strategy, Visa continues to innovate and partner on solutions outside of card, including real-time payments (RTP), Automated Clearing House (ACH) and cryptocurrency.
Chart 2: Visa key facts and figures

Q1. For our readers, Vasant, can you please describe Visa's business model?
Visa is not a financial institution which means that we neither issue cards, extend credits, or set rates and fees for account holders of Visa products nor do we earn revenues from, or bear credit risk with respect to, any of these activities. We earn revenue by facilitating money movement across more than 200 countries among a global set of consumers, merchants, financial institutions, strategic partners, and government entities through innovative technologies. Visa's growth has been mainly driven by our core products which fall under our "consumer payments" services (Chart 3) and are the classical credit, debit and prepaid cards. Furthermore, we also offer the capabilities, tools and solutions that enable consumer payments and help our clients grow as digital commerce, new technologies and new participants continue to transform the payments ecosystem.
Chart 3: Visa's services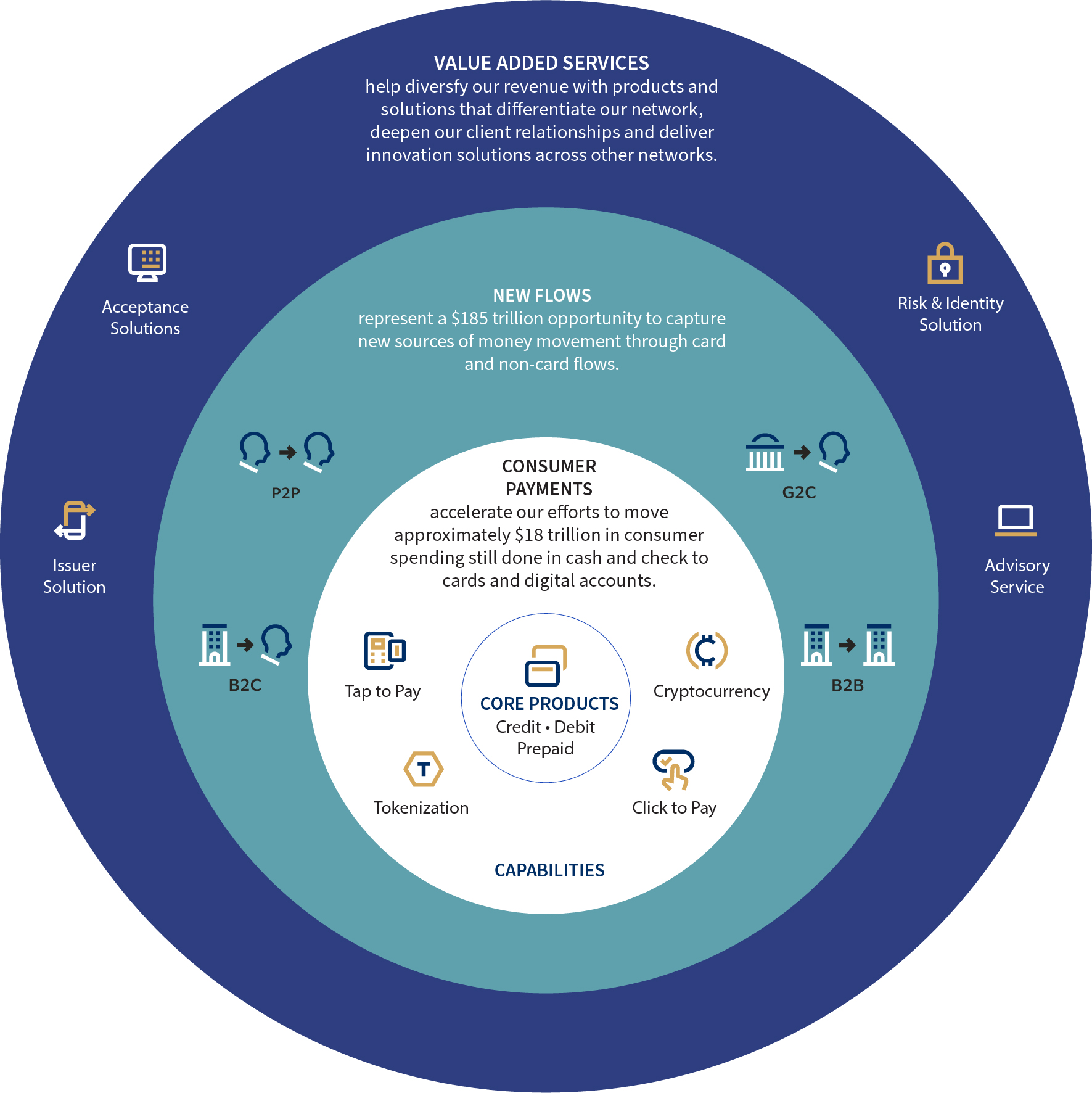 P2P = peer-to-peer service is a decentralized platform whereby two individuals interact directly with each other, without intermediation by a third party.
B2C = business-to-consumer is a retail model where products move directly from a business to the end user who has purchased the goods/ service for personal use.
B2B = business-to-business is the exchange of products, services or information between businesses.
G2B = government-to-business is a relationship between businesses and government.

Source: Visa Annual Report, p.9.

Q2. Can you provide us with some background on the most recent technological evolutions at Visa?
I currently see us in the middle of an exciting transformation - the future is clearly digital. The pandemic has accelerated the shift from cash to digital payments because the social distancing measures as well as the enforced closures of many in-person businesses made the limitations of cash obvious and led to more online commerce. During the pandemic, we saw millions of people worldwide shop online for the first time. They realized that it is relatively easy and, as a result, showed a strong and sticky preference for digital payment channels going forward. One function that has worked particularly well is our "tap to pay" feature whereby transactions are done either with a contactless chip card or a payment- enabled mobile or wearable device (such as a watch) over a contactless-enabled payment terminal. In a world where everyone was worried about health safety the contactless feature was much appreciated by clients who didn't want to touch "dirty" money anymore. Moreover, we have a "moving money" business called "Visa Direct" which is actually my favourite business. Visa Direct opens a whole new range of use cases such as digital person to person payments, disbursements (people need money fast or on-demand payroll), or the distribution of money to people from governments.
Q3. We currently find ourselves in a period of ongoing macroeconomic and geopolitical upheaval. How sensitive is Visa to these developments and how well do you see the company prepared?
Looking at our business, you will find that it is incredibly well diversified globally across products and services as well as essential and discretionary spending5. This makes it very resilient. We are coming into this time-period with a cash digitization engine which is a strong driver of our business model. Generally speaking, Visa's growth depends on nominal growth6 and most consumer spending is done on daily goods and therefore essential. At the same time, recent data shows, that the darkening economic outlook has not yet impacted spending by consumers who remain in good financial health and neither has the job market, which obviously drives spending. For the time being we are therefore not affected. Having said that, we are not economic forecasters and definitely don't want to get into that business. Our current numbers [as of this meeting] suggest a lot of stability, but we continue to monitor carefully how discretionary spending is going to develop.
Q4. One of the most affected sectors by the pandemic was the travel industry. How has that impacted Visa and what's the outlook?
When borders closed due to the pandemic, we obviously took a very big hit. However, since about October 2021, cross-border travel has recovered nicely because there has been a significant change in sentiment among countries about keeping borders open. There were a couple of stumbling blocks in the form of virus variations which saw certain borders close again. But even though this resulted in some slow-down, each time the rebound was faster than we expected. Obviously, Asia is still recovering, and China is still closed to travel (inbound and outbound) but overall, we are now almost back to where we were pre-Covid. This past summer, travel in and out of travel to and within Europe for example has been particularly strong, also supported by the weak Euro. I think that the pre-pandemic numbers will be met and that there is enough pent-up demand to compensate any losses. Ultimately, we expect to benefit as pandemic-weary consumers continue to fuel demand for travel and companies resume business travel despite rising inflation.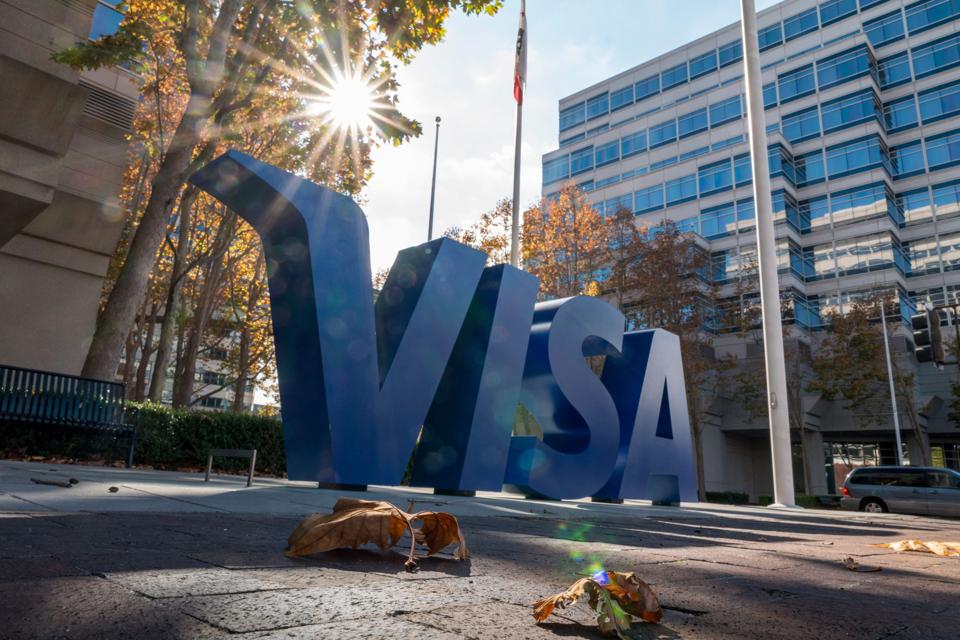 View from the Analysts
Having been invested in Visa for over six years in our Mosaïque strategies, we consider Visa, which is the #1 global card network, to be well positioned to generate continued above-GDP growth for a long period of time whilst at the same time maintaining outsized margins and returns on capital. This is primarily driven by the ongoing trend towards more card based and electronic payments and higher pricing, but also new revenue streams and added value services like fraud protection.
Q5. The way we pay has evolved tremendously over the past years. How do you view this development and how stable is your competitor position, especially versus Mastercard?
The global payments industry continues to undergo dynamic change and there are many existing and emerging competitors that compete with Visa's network and payment solutions for consumers and for participation by financial institutions and merchants. By nature, this space is intensely competitive. At the same time, people often don't realize that we are the biggest enablers of innovation because without us, some of these innovative ideas could not scale. Therefore, it really should be our job at all times to make it very easy for anyone who has found a new way to pay or be paid to think of us as the go-to network. When it comes to our most prominent competitor, Mastercard, our market share is relatively stable (Chart 4). Customer switches from one provider to the other happen rarely and often only when there is a forced change of ownership, i.e., when a bank that operates with Mastercard gets acquired by another one that operates with Visa.
Chart 4: Market share of general purpose card brands in the United States from 2007 to 2021, based on transaction volume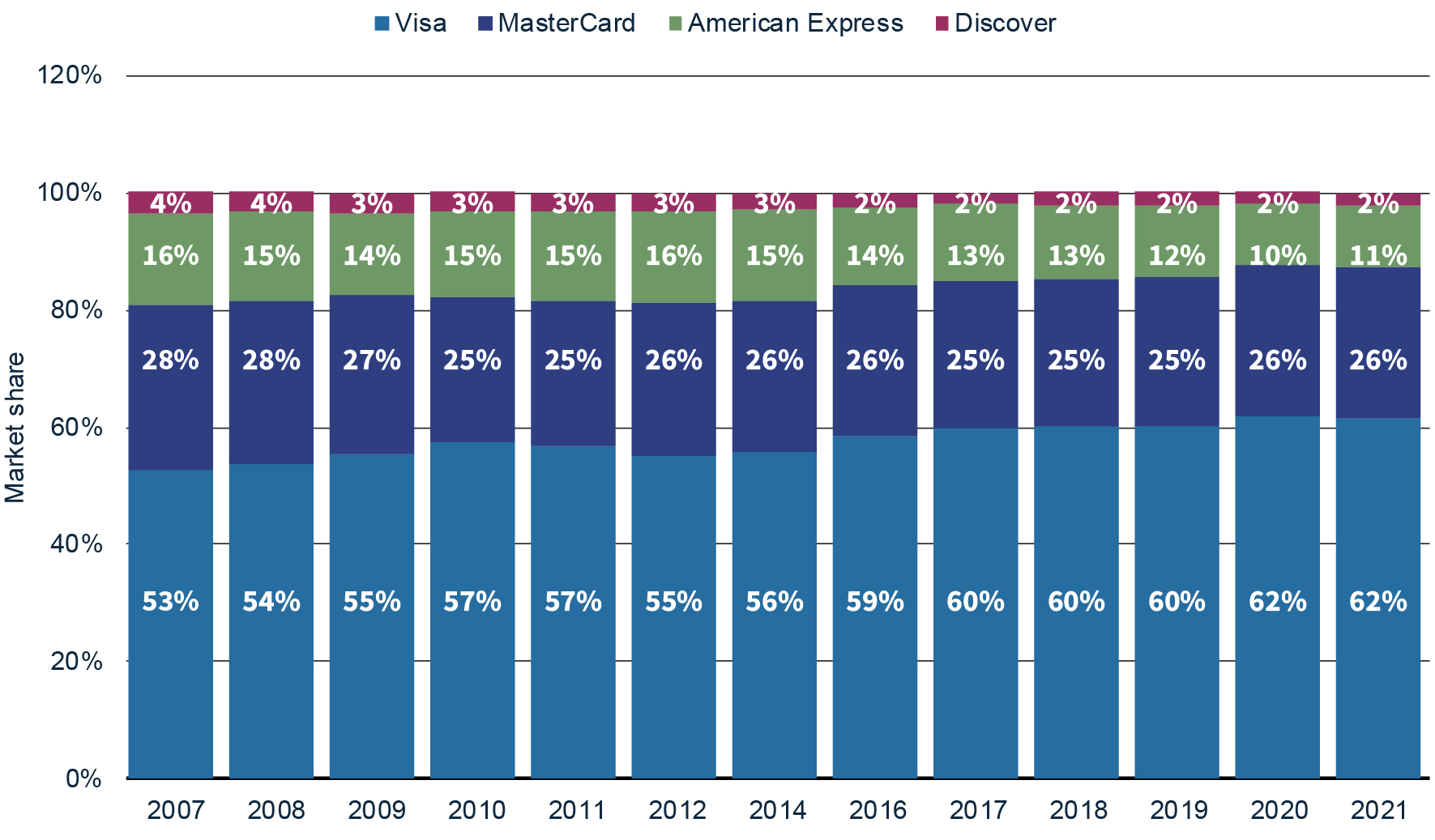 Source: Statista (2022).
Q6. Visa is one of the dominating companies in the payment space and therefore subject to regulation. What do you think about that?
Regulation has always been and will always be part of our business. This is something we have to accept, which is why we have always paid a lot of attention to this space. Whereas most of the European countries have been regulated for some time now, other countries such as the US have not yet embarked on the same road. We have always believed that we need to work with regulators around the world to help them understand how we can assist them with achieving their objectives. Therefore, once regulators get involved, we do our best to ensure that they have reliable information to base their decisions on. We also want governments to keep markets open. That is with the exception of China (where we do not process domestically) and Russia (where we suspended our operations). Engagement is very important in that context and we have to find a way to balance the respective countries' national interests with what we need to do within our own business. As long as the market is open and as long as the "playing field" is reasonably level, we are hopefully able to participate in a way that is of use to countries.
Q7. Turning to the future: What growth opportunities do you see and what are the challenges?
Based on the best calculations we can do, the pandemic likely brought forward one year's worth of cash digitization. However, there still is a lot of cash out there, especially in emerging markets, where the penetration levels are very small. This is a truly extraordinary opportunity. To provide you with one example: Due to cash digitalization, our payments volume in CEMEA7 and Latin America has doubled over the last three years. When it comes to challenges, I think there are two challenges we have to manage:
Innovation: As I said earlier, this is a time of extraordinary innovation and we need to make sure our network is relevant to innovators. This means that it has to be very easy to use, easily adaptable and economical.
Opportunity: This is also a time of outstanding opportunity reason for which underinvesting would be a big mistake. We therefore have to ask ourselves constantly whether we are investing the right amount of money in the business and how to prioritize it.
Having said that, we are doing everything we can to capture the opportunities out there and we are doing everything we can to enable the innovation we need to grow our business.