Wealth Management – Monthly Market Summary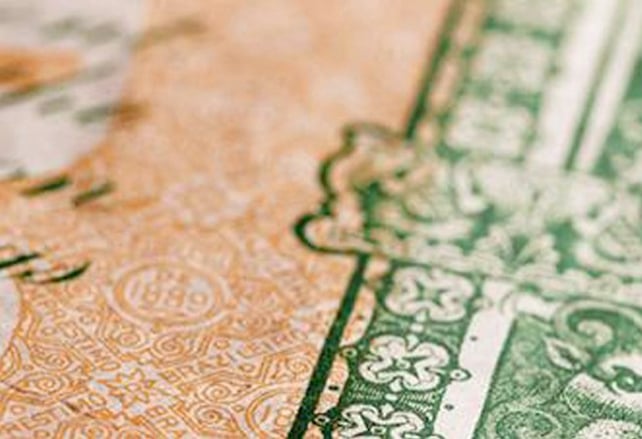 Victor Balfour, William Haggard, and William Therlin, Wealth Management
Stocks edge higher on dovish central banks
Global equity markets rallied further in June +5.7% (in local currency) as leading US equity benchmarks recorded all-time highs. Key events included:
Market anticipation of looser monetary policy from global central banks;
US-Sino trade tensions easing in the wake of the G20 meeting;
Sovereign bond yields falling with the 10y bund touching an all-time low.
Hopes of a positive outcome from trade talks at the Osaka G20 summit and dovish monetary policy comments from central banks drove equity markets higher in June. Concluding a positive month for investors, Presidents Trump and Xi confirmed at the G20 to resume trade negotiations and to hold back additional tariffs for now. The US had threatened to impose additional tariffs on $325bn of Chinese goods should trade talks break down. In commodities, oil prices climbed due to; 1) OPEC looked on track to extend supply cuts beyond 2019, and; 2) increased tensions in the Middle East. Meanwhile, gold rose to its highest level in over 5 years on the prospect of lower short-term interest rates.
US: Tariff de-escalation, Fed to "act as appropriate"
Leading US benchmarks reached record highs in June as the Fed signalled a more dovish stance, citing rising economic uncertainties and muted inflationary pressures. Leaving rates unchanged, the Fed said it would "act as appropriate to sustain the (economic) expansion". On trade, recent protectionist efforts towards neighbouring Mexico receded as President Trump called off plans to impose tariffs on all Mexican goods, reaching an agreement on tighter migration controls. Meanwhile, economic data softened in June as manufacturing activity slowed (ISM manufacturing PMI at 51.7), the weakest reading since October 2016. While unemployment remains low at 3.6% - the lowest level since 1969 - the latest gauge of the US jobs market saw fewer jobs added than expected.
Europe: Dovish ECB, Mixed data, Wage growth
A dovish ECB set the stage for more stimulus and revised its interest rate expectations citing a risk outlook "tilted to the downside" for the European economy. Its first post-crisis rate hike is unlikely to happen before mid-2020 policymakers said, in the absence of improving inflation (unchanged at 1.2% in June y/y). Meanwhile, the yield on the 10y German bund hit a record low of -0.33% as the German central bank cut the economic output forecast to 0.6% from 1.6% prior, as exports remain lacklustre. Business morale fell with the German IFO survey (97.4) falling for a third consecutive month. By contrast, wages and salaries in the Euro area saw its strongest growth (+2.5% y/y) in almost 10 years and unemployment levels remain low at 7.5%.
Asia: Soft Chinese data, Japan's manufactory contraction
Economic data in China deteriorated as industrial output growth slowed to a record low (5% y/y), and the Caixin manufacturing PMI fell (49.4) after three months in expansionary territory - renewing calls for Beijing to roll out further stimulus to boost the economy. Separately, positive reports of a possible US-China trade truce towards the end of June supported China's equity market (MSCI) which returned almost +8% over the month (in local currency). Elsewhere, manufacturing activity in Japan contracted to a three-month low (PMI at 49.3), as exports remain weak amid global trade uncertainty, and inflation fell to 0.7% (y/y) from a six month-high.
Sources: Bloomberg, Rothschild & Co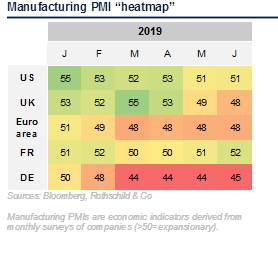 Click the image to enlarge
Click here to continue: Monthly Market Summary - Important Information


In this Monthly Market Summary:
Download the full Monthly Market Summary in PDF format (PDF 264 KB)
Download the full Commentaire Mensuel in PDF format (PDF 420 KB)