Wealth Management – Monthly Market Summary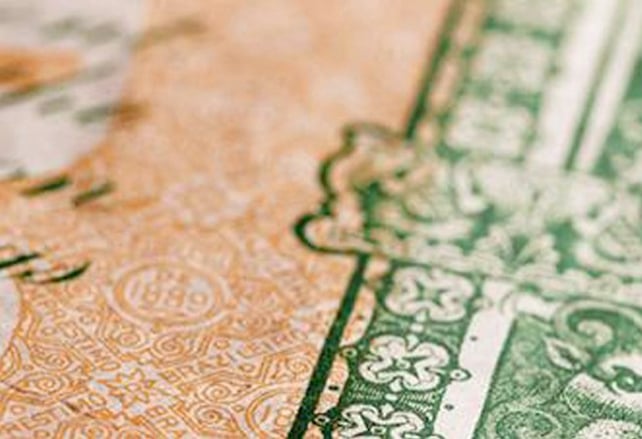 Victor Balfour, William Haggard, and William Therlin, Wealth Management
Economic slowdown pauses, Q1 GDP solid
Equity markets rallied further in April, +3.6% (in local currency), as leading US benchmarks reached record levels. Key events included:
Stronger US first quarter GDP growth; corporate earnings firm;
A Eurozone rebound with lowest unemployment levels in a decade;
China stabilising as industrial output jumped unexpectedly.
Global equity markets continued their upward trajectory in April, extending a strong first quarter performance as (so far) better than expected earnings led markets higher. Global growth stabilised as conditions in China, supported by fiscal easing, improved. In the US, data remains firm with Q1 GDP growing at 3.2% annualised whilst the Eurozone economy also grew more than expected in Q1. Geopolitical tension meanwhile receded as US-China trade talks reportedly entered their 'final laps'. Amidst much confusion, the Brexit debate faded as EU leaders agreed to postpone the UK's departure until 31st October. The oil price moved upwards as the US decided to end exemptions on Iranian oil exports, while gold fell slightly.
US: Strong Q1 GDP, corporate results surprise positively
The US economy defied fears of a slowdown as Q1 GDP grew by 3.2% annualised, with expansion on track to become the longest ever in July. A build up of inventory and ongoing low inflation caused some concern, but consumer spending rebounded at the end of the quarter and posted the biggest increase in over 9 years (0.9% m-o-m). Supported by corporate results beating expectations - anticipating an outright fall in the first quarter - the S&P 500 reached record levels several times during April and has returned 18% y-t-d. The ISM manufacturing PMI fell to 52.8 in April, but remains firmly in expansion territory.
Europe: Eurozone Q1 GDP rebound, labour market strong
The Eurozone rebounded from a growth slump in the second half of 2018 as Q1 2019 GDP grew more than expected at 0.4% and Italy emerged from a technical recession with quarter-on-quarter growth at 0.2%. Euro area unemployment fell to 7.7%, the lowest level in over a decade, though German business sentiment remained weak as its IFO survey slipped further. Earlier in the month, leading German economic institutes cut their 2019 growth forecast for 2019 by more than half to 0.8%, warning growth could slow further in case of a hard Brexit. Meanwhile, the UK's departure from the EU was delayed twice - first to 12 April, then to October 31st.
Asia: China improving, Japan's manufacturing remains weak
Economic conditions in China stabilised as its economy grew at 6.4% (y-o-y) in the first quarter. Industrial production (8.5% y-o-y) saw its biggest surge since July 2014, helped perhaps by the monetary and fiscal measures taken by Beijing to support the economy. Factory activity remained in expansion territory in April as the manufacturing PMI (50.1) expanded for its second consecutive month, albeit a slight fall from March's reading (50.5). In Japan, manufacturing continues to suffer as export demand remained weak, visible in a flash manufacturing PMI at 49.5. Employment, however, remains resilient in Japan, and retail sales, a key measure of private consumption, improved more than expected.
Market summary
(total return in local currency)
Sources: Bloomberg, Rothschild & Co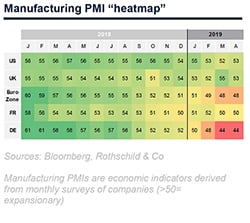 Click the image to enlarge
In this Monthly Market Summary:

Download the full Monthly Market Summary in PDF format (PDF 282 KB)