Wealth Management: Investment Views – Where to focus in luxury and apparel
Beat Keiser, Christoph Wirtz, Willis Palermo and William Haggard, Wealth Management
What's in a brand?
Brands have the recurring power to fulfil the need to 'express ourselves'. In a pivotal year, 2018 is the first time more than half of apparel and footwear sales will originate outside of Europe and North America. As consumer markets globalise, our equity analysts take a closer look at luxury and apparel and those companies which can meet the growing needs of the global consumer.
What we see from our research is that established and sizeable luxury and apparel businesses like LVMH, Richemont or Nike enjoy clear advantages. In summary, leading names in these sectors with ownership of dominant brands and a global platform for growth are able to drive superior earnings growth and cash generation vis-a-vis smaller competitors. These businesses will also be better positioned against future market disruption.
The winners take it all
The future sees dominant brands reaping greater rewards for their parent companies as the gap between leaders and laggards widens. Size allows leaders to tap into global demand for their products whilst smaller, second tier brands increasingly fall behind. This is the case for both the luxury goods and apparel sectors. In luxury goods, age also matters and we have identified a select number of brands with a distinct heritage and strong brand equity which affords them pricing power, namely Louis Vuitton, Hermes, Cartier (controlled by Richemont), Rolex and Chanel (both not listed). In the apparel sector, we think Nike still rules supreme with Adidas the only potential challenger.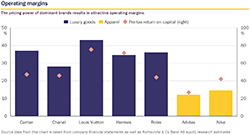 Click the image to enlarge
Keeping customers satisfied
Traditional brand owners face a myriad of challenges given the rise of online retail, increased price transparency in the digital age and rising consumer expectations in terms of time, convenience and innovation. In order to meet these challenges and succeed, we think leading companies need to deliver:
seamless, integrated off- and on-line distribution to customers; and
a unique and differentiated shopping experience
By getting the above right, companies can increase customer loyalty, maximize sales at full price and strengthen their brand equity.
As part of this trend, luxury and apparel businesses will continue to integrate their business models, rejecting sales to wholesalers in exchange for greater direct sales to consumers either via physical stores or their own online platforms.
It is important to remember that wholesalers often negatively impact brand equity and the ability to sell at full price to the end customer.
Integrated business models require physical and technological infrastructure which smaller players will struggle to finance. Large brands will also be able to leverage big data, to gain granular customer insights which helps them develop new products and increase sales penetration.
A positive growth outlook
Consumer spending looks set to continue to outpace GDP growth, driven by greater disposable income, particularly in emerging markets. We therefore expect growth in the mid-single digits for providers of luxury goods and apparel.
Luxury goods will benefit from an increasing number of high income consumers as well as stronger pricing power for its most dominant brands.
The apparel sector is also well positioned to capture the benefits from the shift towards healthier lifestyles and increased participation in sports. In addition, we think the threat from a shift in consumer spending from material goods to experiences is exaggerated as up-and-coming and aspirational consumers initially focus their spending on material goods to showcase their growing status.
Click here to continue: Investment Views - Where to focus in luxury and apparel
In this Investment Views:
What's in a brand? (current page)
Download the full Where to focus in luxury and apparel in PDF format (701 KB)