Wealth Management – Monthly Market Summary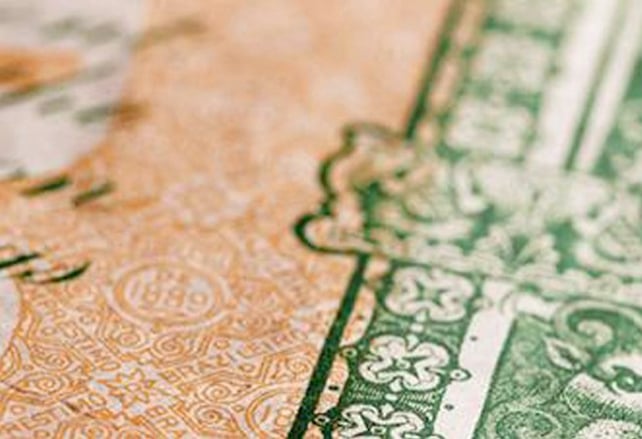 William Haggard, Amaya Gutiérrez, and William Therlin, Wealth Management
Trade talks extend rally, oil rebound continues
Global equity markets continued the strong start to 2019 in February, +3.1% (in local currency). Key events included:
Trade talks as US extend deadline to increase tariffs on Chinese goods;
Softer economic data as February manufacturing PMI miss expectations;
Brexit deadline looms, PM May concedes "no deal" off the table.
In February, trade tension eased as President Trump extended the deadline to increase tariffs on Chinese imports, citing significant progress. The Trump-Kim summit in Hanoi ended prematurely without an agreement, however. Oil continued its strong recovery (+8.5%) - after the sharp fall in Q4 - as Saud Arabia reportedly intends to cut production and US sanctions on Iran and Venezuela may further reduce supply. In Europe, economic data remained soft with the latest manufacturing PMI below expectations although the services PMI picked up. The direction of Brexit remains uncertain still with the March 29 deadline looming.
US: Trade deadline extended, Q4 GDP, Fed remains "Patient"
Lifted by consumer and business spending, the US economy cooled by less than expected in Q4. GDP grew at 2.6% annualized, with full year GDP growth at +2.9%. Fed chair Powell reaffirmed the patient stance to future monetary policy changes citing "unexpectedly weak retail-sales data for December" as also giving reason for caution. December retail sales fell by the most in nine years. In contrast, consumer confidence increased after a drop in January, when the partial government shutdown hurt sentiment. The ISM survey fell to (54.2.), below expectations. On trade, the US extended the March 1 tariff hike deadline on Chinese goods with new high-level meetings expected in March, supporting markets. Approaching the end of the earnings season, the S&P 500 is on track for a fifth straight quarter of double digit earnings growth.
Europe: Soft manufacturing PMI, Brexit deadline
With the slowdown led by Germany - where factory output contracted for a second consecutive month - European manufacturing weakness continued in February with the manufacturing PMI (49.3) falling for a seventh month. The services PMI on the other hand jumped to (52.3), a three-month high. With the Brexit deadline looming (March 29), PM May reportedly conceded that a "no deal" may be taken off the table. While uncertainty remains high, sterling has pushed higher as a result. Citing Brexit and a global economic slowdown, the Bank of England revised down its growth forecast for 2019 to 1.2% from 1.7%.
Asia: Manufacturing contraction, Trump-Kim summit
While a sharper deterioration in the Chinese factory activity was expected, Caixin PMI was below 50 for a third straight month in February (49.9). In light of the most recent data - offering further evidence the US-Sino trade war continues to hurt exports - news that President Trump extended the March 1 deadline on higher tariffs lifted sentiment. Elsewhere, the manufacturing PMI in Japan was also in sub- trend territory in February (48.9). The summit between US President Trump and North Korean leader Kim Jong Un was cut short with no agreement reached as denuclearization and sanction talks failed to reach common ground.
Market summary
(total return in local currency)
Sources: Bloomberg, Rothschild & Co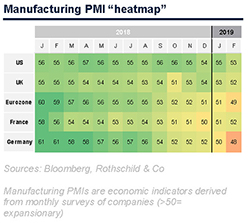 Click the image to enlarge
In this Monthly Market Summary:
Download the full Monthly Market Summary in PDF format (PDF 354 KB)