Wealth Management – Monthly Market Summary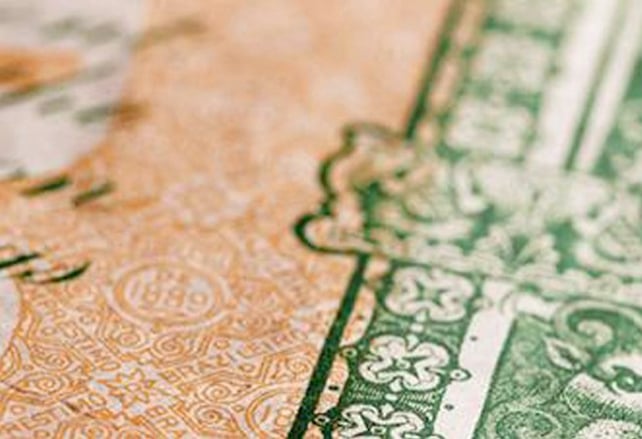 William Haggard, Amaya Gutiérrez, and William Therlin, Wealth Management
Equities rebound, geopolitical risk stays elevated
Global equity markets staged a strong rebound in January, 7.2% (in local currency). Government bonds also rallied, +0.7%. Key events included:
A US shutdown which failed to weigh on sentiment; with data resilient;
A "patient" Fed indicating QT is nearly concluded. Path of rates uncertain;
Brexit deal rejected in parliament, embattled PM returns to Brussels
The S&P 500 index posted its strongest start to the year since 1987 following the weakest December in over 80 years. The oil price, which also fell sharply in Q4, partially recovered in January (+15%). Economic data appears to be slowing - particularly in Europe - with the IMF downgrading its global 2019 GDP forecast by 0.2% to 3.5%. Geopolitical tensions remained, with no clear outcome at US-China trade negotiations, Brexit unresolved and Venezuela in crisis. The US government shutdown was suspended but not resolved.
US: Shutdown suspended, "Patient" Powell, ISM rebounds
The longest US shutdown ever - extending to 36 days - was suspended for 3 weeks as Congress attempts to agree on the federal budget. The economic impact to date appears limited, though it is difficult to know as the publication of some data has been interrupted. The labour market at least remains in good health, with weekly initial jobless claims - 4 weeks into the shutdown - falling to their lowest level since 1969. The ISM survey (56.6) - whose publication was also unaffected by the shutdown - rebounded in January after its sharp fall in December. US Fed Chair Powell sounded more doveish again, talking of the likely end of quantitative tightening and suggesting that future interest rate moves could be in either direction. The Fed cited "cross-currents" to the US economy - trade tensions, Brexit and the shutdown - as reasons for its new caution.
Europe: Brexit gridlock, Merkron's revival, Weak manufacturing
In an unprecedented blow to a sitting government, Theresa May's "meaningful vote" on Brexit was firmly rejected by UK parliament. The government survived a 'no confidence' vote, but its position remains precarious as the PM returns to Brussels to renegotiate the withdrawal agreement. France and Germany pledged renewed integration in Aachen. The treaty appears largely symbolic - a renewal of vows - with little sign of the long-awaited deepening of economic and defence policy cooperation. European manufacturing weakness continues, with broad PMIs softening and Germany's industrial production falling by 4.7% (y-o-y) in November. Italy entered a technical recession after a second consecutive quarter of negative growth.
Asia: China's stable but slower growth, PMIs continue to soften
China's economy grew more slowly in Q4 GDP (+6.4% y-o-y), but met expectations as growth is appearing to stabilise with renewed fiscal and monetary stimulus. The PBOC eased banks' ratios again and policymakers signalled their intention to increase spending and further cut taxes for small firms. Consumption is becoming more prominent as the economy shifts away from manufacturing-led growth. Evidence of China's slowdown is visible across the region, with manufacturing PMIs in Taiwan and South Korea weaker than expected and falling further into contraction territory.
Market summary
(total return in local currency)
Sources: Bloomberg, Rothschild & Co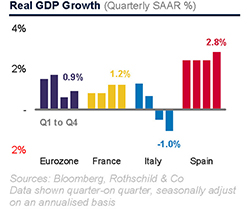 Click the image to enlarge
In this Monthly Market Summary:

Download the full Monthly Market Summary in PDF format (PDF 352 KB)