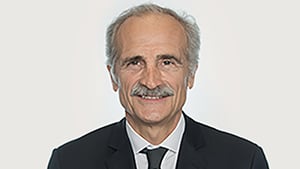 Senior Advisor
René is a Senior Advisor of Rothschild & Co, a member of the Advisory Committees of FAPI I, FAPI II, FACS and FADL.

Prior to joining Rothschild & Co, René worked for 30 years at The Boston Consulting Group ('BCG'). He served as Head of France from 1985 to 1990, Chairman of BCG Europe from 1990 to 1997, was Executive Committee member of BCG worldwide from 1988 to 2004, and remains a Senior Advisor to BCG.

René is also a member of the Board of Directors of Laboratoire Français des Biotechnologies, Chair of the Compensation Committee, a Managing Director of Delphen Sarl and an observer on the Board of Socotec. He is Chairman of the the Cernuschi Museum Société des Amis. Previously he sat on the Board of Directors of Carrefour and Atos for seven years. He is Chevalier de la Legion d'Honneur.