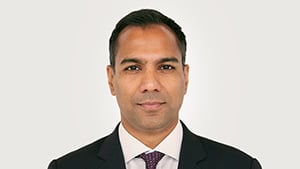 Co-Head of Five Arrows Growth Capital (FAGC)
Kunal Pandit is Co-Head of FAGC, based in London.
Prior to joining FAGC in 2019, Kunal worked at Tellacq Partners, a healthcare-focused investment firm, where he was a Partner since 2017.
From 2010 to 2017, Kunal worked at Avista Capital Partners, a mid-market private equity fund, where he had been a Partner, Principal and a Vice President. Previously he was an Associate at DLJ Merchant Banking and an Analyst/Associate at Lehman Brothers.
Kunal currently sits on the board of BioPhorum.
Kunal holds a BA/MA in Economics from Cambridge University and an MBA in Finance from The Wharton School at the University of Pennsylvania.