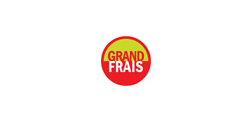 Sector: Food Retail
Country: France
Investment date: March 2011
Exit Date: April 2017
Partners: Founders, Abenex Capital
Grand Frais is a leading French fresh food retail specialist, offering under one roof an extensive selection of quality fresh products (fruits and vegetables, seafood, meat, dairy and grocery). A thorough attention to high quality product selection, an appealing shopping environment inspired by traditional food markets ('halles') and prices competitive with hypermarkets are the hallmarks of the Grand Frais concept. Grand Frais runs a fast-growing network of more than 135 stores and operates as a partnership between four operators - each managing one product category under the Grand Frais banner. Prosol manages the fruits and vegetables, and seafood product categories which represent the majority of sales of the banner. Prosol is headquartered near Lyon, France.
Website: https://www.grandfrais.com/