Wealth Management – Monthly Market Summary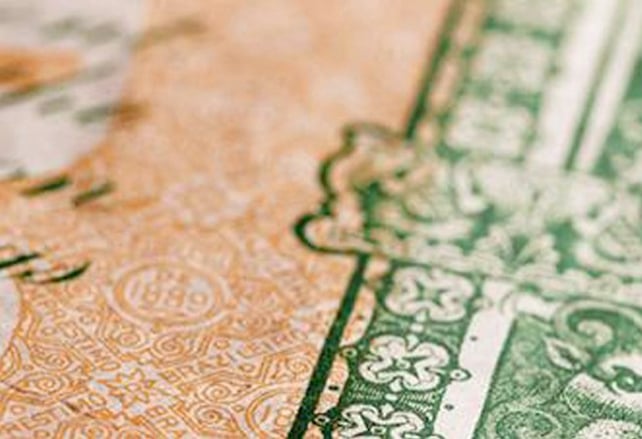 William Haggard and William Therlin, Wealth Management
Summary: Reduced uncertainty supports investor sentiment
A global equity rally continued in December (+2.7% in local currency), whilst government bonds weakened and high yield bonds rallied (+2.3% hedged in USD). In December:
A 'Phase one' US-China trade deal pushed equities to new highs
A Conservative majority in the UK election saw political fragility recede
Leading Central Banks ended the year on hold with policies unchanged
In contrast to 2018, most asset classes performed ahead of inflation with leading US equity indices touching record highs in December, returning some +30% in 2019 (S&P 500) as the US and China negotiated a 'Phase one' trade deal. Meanwhile, PM Johnson's win in the UK election initially led to a short-lived rally in UK domestic assets as political uncertainty receded. In commodities, gold prices posted a solid month ending the year some +18% whilst oil touched a three-month high in December, reflecting a decline in inventories and easing trade tension.
US: 'Phase one' deal, impeachment, Fed pause 
A proposed US-China 'Phase One' trade deal lifted equity benchmarks to new highs in the weeks preceding Christmas as the US did not proceed with planned tariffs on $160bn of Chinese imports. The Fed, which had cut rates three times in 2019, left its policy unchanged (1.50-1.75%). Separately, markets remained muted following a vote in the House of Representatives to impeach President Trump for abuse of power and obstruction of Congress, with expectations that a Republican Senate will halt proceedings. Meanwhile, a strong US jobs report showed labour market resilience as the economy added 266k jobs in November, well ahead of expectations. Unemployment meanwhile fell to 3.5%, a 50-year low. Retail sales, however, grew by less than expected (0.2% MoM) as consumers cut back on discretionary spending in November.
Europe: PM Johnson's win, ECB, BoE on hold, Riksbank hike
PM Johnson secured the UK Conservative party's biggest majority in over 30 years in the first UK December election since 1974. A rally in both UK stocks and GBP was partially reversed as PM Johnson introduced a law prohibiting a Brexit extension beyond December 2020. The BoE meanwhile held rates steady in its December meeting. Separately, the Chancellor appointed Andrew Bailey to be the 121st and next Governor of the BoE. In the Eurozone, manufacturing contracted (45.9) for the 11th month, while services PMI held (52.4) ahead of expectations, easing fears of contagion from the manufacturing sector. The ECB left rates unchanged at a record low (-0.50) in its first meeting since Lagarde's tenure began, while the Swedish Riksbank became the first European CB to move interest rates out of negative territory, raising interest rates by 0.25% to zero.
RoW: Improved Chinese data, Japan stimulus
Amid receding US-China trade tension, Chinese retail sales accelerated by more than expected in November, growing 8% YoY, helped by China's Singles' Day.  Showing signs of improvement in the domestic economy, China's latest Industrial Production data saw its fastest YoY growth (6.2%) in five months, whilst December manufacturing surveys (PMIs) remained buoyant (50.2 / 51.5). In Japan, the BoJ maintained interest rates after Prime Minister Abe launched a $121bn stimulus package - one of the largest since the GFC, aimed at muting the impact of a weak global economy and a long-delayed consumption tax hike from 8% to 10%.
Sources: Bloomberg, Rothschild & Co  
Market summary (total return in local currency)
Manufacturing PMI "heatmap"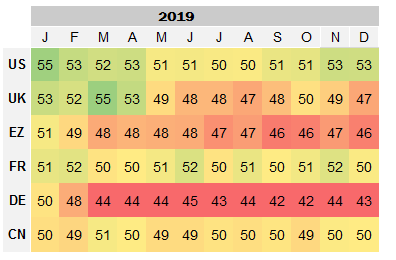 In this Monthly Market Summary:
Download the full Monthly Market Summary (PDF 374 KB)
Download the full Commentaire Mensuel (PDF 377 KB)