Wealth Management: Mosaique Insights – A fresh perspective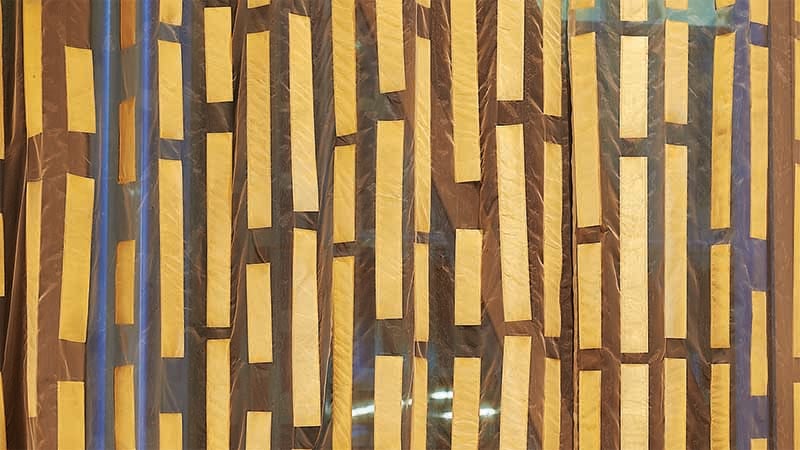 Gianluca Ricci, Head of Portfolio Management, and Benjamin Meier, Portfolio Manager
The people behind Mosaique and how our approach has captured returns in a volatile environment
At the heart of managing our investment services is our portfolio management and research team. Comprising 10 portfolio managers and five analysts, we are responsible for managing clients' wealth, in accordance with our top-down Mosaique investment approach, which you can learn more about in our separate publication
Our Investment Approach
. In this article, we want to tell you about who we are and how we manage your wealth (figure 1 on page 4).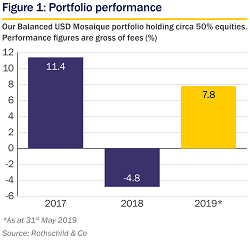 Click the image to enlarge
First, the team. With Swiss, French, German, British, Italian, Ecuadorian and Australian nationalities, our portfolio management team is fluent in six languages. These languages help us when investing in a globally diversified portfolio and to counter specific cultural biases. While we all possess higher qualifications in finance, we come from a variety of backgrounds including psychology and law as well as time spent in military service. In an increasingly automated world where human psychology can be materially impacted by irrational market sentiment, we see our broad educational base as a prerequisite to managing wealth, in addition to a CFA Charter.
Between us, we have a total of 155 years' market experience, with strategic members of our team having worked through the dotcom stock market crash in the early 2000s and Global Financial Crisis of 2008. This wealth of professional experience during times of market exuberance and despair has enabled us to build a robust investment process - one which has strengthened our Mosaique discretionary and advisory offerings.
Forming a view
The starting point for Mosaique portfolios is setting the appropriate strategic asset allocation. This benchmark gives us a framework around which we implement our tactical asset allocation.
Mosaique's benchmark focuses on three primary asset classes - cash, equities and bonds. Asset classes you won't find in our benchmark are alternative investments such as gold, oil, private market funds, real estate or hedge funds. Simply put, we do not think it is credible to have a singular conviction at an asset allocation level on such an eclectic mix of sub-asset classes. This is not to say that we do not deploy these specific asset classes tactically in portfolios from time to time, but we believe the decision to exclude these asset classes from our benchmark is one of the key factors that distinguishes Mosaique portfolios. While some wealth managers have successfully integrated alternative investments within their benchmarks, we think Mosaique's integrity is stronger for sticking to a more transparent and straightforward benchmark.
Going tactical
Once we have set our strategic asset allocation, we can start positioning Mosaique portfolios tactically in relation to markets. In practice, this is set by our Asset Allocation Committee led by our Global Investment Strategist, Kevin Gardiner, and our Chief Investment Officer, Dr. Carlos Mejia.
So how does the Asset Allocation Committee take tactical decisions? The answer is by studying and analysing a variety of qualitative and quantitative inputs in the form of score cards, macroeconomic and technical data points, as well as indices reflecting market sentiment.
As markets move quickly, our Asset Allocation Committee meets monthly but can convene at any time. Recent examples of ad-hoc meetings include in the wake of the historic spike in market volatility in February 2018, or after a euphoric market rally as seen at the end of the first quarter of 2019. In addition, the committee watches market and macroeconomic data points closely and will convene if there is a significant change that warrants a review of our current positioning. Our June asset allocation views are illustrated on page 15.
Implementing views in portfolios 
Having a set of house views is only part of the picture. Implementing these views in portfolios requires additional nuance and time sensitivity. This is the point where we need to choose the right companies and investment vehicles to implement our house views in Mosaique portfolios. 
It is also the moment where we at Rothschild & Co set out to differ. Unlike many top-downoriented investment houses, our Mosaique approach combines market-oriented considerations with company-oriented analysis. We use the latter approach to invest in individual companies, which, depending on our conviction, can be of significant size within clients' portfolios. As with the selection process for creating a mosaic, it is this careful selection of individual positions that can contribute substantially to Mosaique performance and forms the bedrock of our analysts' day-to-day activities.
In addition, our preference for individual company holdings within portfolios, over a long list of funds, is an important part of our Mosaique strategy. Ultimately, we want to keep the total expense ratio of portfolios to a minimum, and view the moderate use of funds as an important consideration when achieving this goal.
Looking ahead 
While we believe in a mid-to-long-term investment strategy, our Mosaique approach is driven by pragmatism and our agile management style. We will look to take advantage of any opportunities that the market offers in a prudent manner. This is particularly important in an ageing business cycle where interest rates have remained globally muted, continuing a decadelong challenge in the hunt for yield.
When stepping back and looking at Mosaique as a whole, we remain disciplined but flexible and open to new perspectives. We believe these ingredients are key to continuing to deliver results that set us apart from our competitors over time.
A tactical view
2019 has given us several opportunities to use our tactical asset allocation views to enhance Mosaique portfolio returns. Following heavy market falls in December 2018, we viewed the market as oversold. We took this opportunity to increase our exposure to growth assets through the purchase of Emerging Market bonds and Asian equities. Mosaique portfolios then benefited from a strong rebound in the following months, when these positions returned +5.9% and +13.6% by 30th April 2019.
This same strong rebound in markets in January and February 2019 then led us to see market valuations as increasingly full as macroeconomic and corporate earnings data began to weaken. Our Asset Allocation Committee in March therefore decided to tactically reduce Mosaique portfolios' equity exposure from overweight to neutral, thus ensuring that portfolios were less exposed to stock market volatility.
Participating on the upside,protecting on the downside
After strong equity market performance in the first quarter of 2019, we were conscious of the potential for renewed market volatility. We therefore needed a creative solution to capture potential upside market returns while reducing the overall risk to portfolios. We achieved this by switching Index ETFs held in Mosaique portfolios for a Participation Certificate. This certificate was specially structured for Mosaique portfolios, allowing the portfolios to enjoy 100% participation in a further 15% rise in the markets, while limiting the portfolios' downside participation to only 55% of potential equity market falls, should there be a market correction. As we write, this certificate has served the portfolios well, participating in additional upside returns.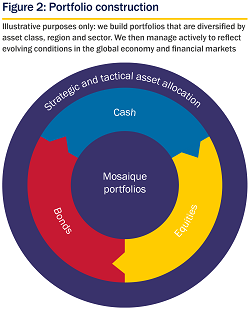 Click the image to enlarge
Wealth Management clients can request the entire publication from their Client Adviser.